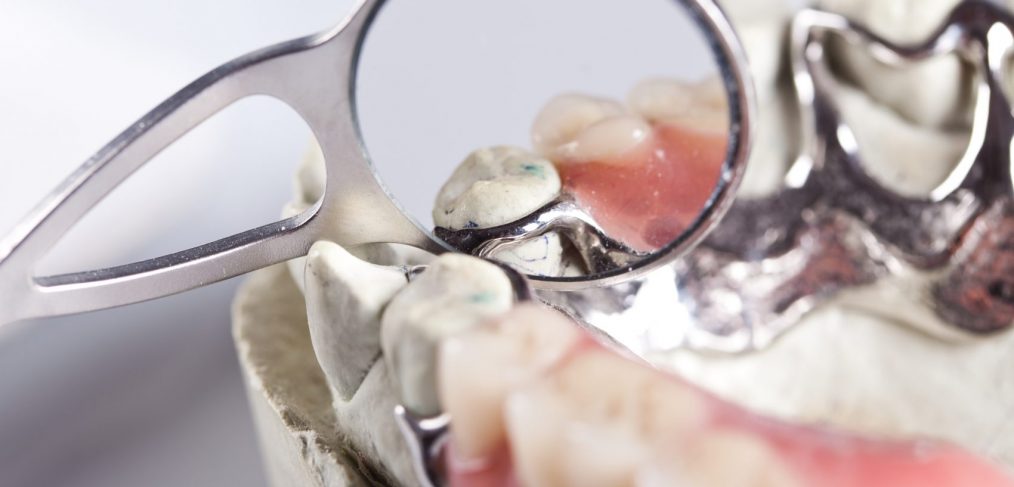 What Are Chrome Dentures?
Chrome dentures, sometimes called metal dentures, are made from an alloy of cobalt, chrome, and chromium cast into a framework or base, supporting acrylic gums and teeth.
Commonly, the first option people consider when they need a partial denture is an all acrylic partial denture. That is, a gum coloured acrylic base with teeth set into it.
Advantages Of Chrome Dentures
Chrome dentures have superior strength and fit.
There are some very good reasons to explore the metal or cobalt, chrome-based, denture option.
Among the advantages are the strength and stability they offer.
Higher thermal conductivity of the chrome denture allows the wearer greater sensitivity to food and beverage temperatures and therefore a more natural eating experience.
The thin metal base means chrome dentures fit more snugly to the remaining teeth and gums.
The highly polished metal surface is more hygienic, being less porous so less likely to collect food particles and plaque.
The metal clasps are stronger and less likely to break and loosen, increasing the longevity of the device.
Unlike the acrylic denture, the chrome denture is lighter in weight and covers less of the roof of the mouth making it more comfortable and not as bulky.
Further, should worn teeth need replacing, this can be achieved with a chrome denture without the need to replace the whole appliance.
Disadvantages of Chrome Dentures
The disadvantages are few in comparison. While chrome dentures are more expensive, their longevity and superior comfort make the extra investment worthwhile. Chrome dentures can be more difficult to reline or remodel if underlying gums change or should further tooth loss require new teeth need to be added.
Where are my dentures made and why is it important?
Currently, there is no obligation in Australia for dental professionals to disclose where your dental prosthetics are made. Laboratories in many developing countries now offer cheap manufacture of dental appliances. These facilities are beyond the reach of the strict regulations governing the quality and safety of manufacture and materials we have here in Australia.
Think about it. Just what is it you are putting in your mouth? What recourse will you have if there are problems, or if the device fails to live up to expectations?
Australian Made
At Northern Rivers Denture Clinic, we have seen the disappointment of patients who have come to our clinic for help to remedy poorly-made dentures that have failed to deliver on promises. Consider carefully before you put your health, comfort and hard-earned cash in the hands of some anonymous, unregulated, off-shore entity.
Dr Paul is a highly qualified professional who is invested in your best outcome – his reputation depends on it. With a state of the art, on-site laboratory governed by stringent Australian regulations for prosthetics manufacture, you can be assured of getting the best quality product and service. He is a human face you can trust, accountable and there to assist should any issues arise.
Now if that's not a good reason to buy Australian and guarantee your investment and satisfaction, I don't know what is.
---
Disclaimer – Always consult your oral health professional for expert advice about your unique personal situation. The information given here is of a general nature and for the purpose of education only. It is not meant to replace the advice of your oral health specialist
---
Northern Rivers Denture Clinic is located in the heart of Tweed Heads, southern Gold Coast. Finally have the smile you deserve with handcrafted, quality dentures.