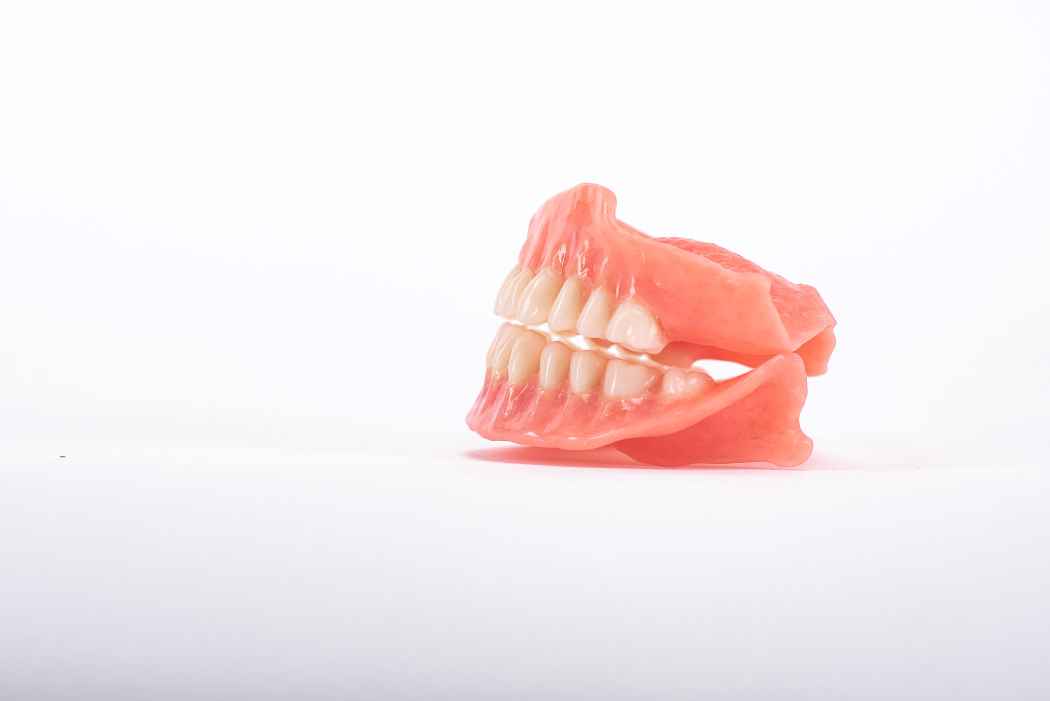 Can cracked dentures be repaired?
'Can dentures be repaired' is usually the first thing you want to know when you break your denture. The good news is – in most cases – yes, your denture can be repaired!
The next question on your lips is probably: 'how fast can my denture be fixed? 'Well again, in most cases, if the break is a simple one, you can have your denture back on the same day.
All good news so far you say, but how much will my denture repair cost? Well, let's begin by examining the sub-text contained in each of your three vital questions.
Firstly, which dentures can be repaired?
Simple breaks
You've just dropped your acrylic denture onto the bathroom floor cracking it, or worse, breaking it in half. Disaster! But not irretrievable. As long as the broken edges fit neatly back together, your denture can be glued, milled and polished, restoring its strength and appearance. And in this case, no impressions are needed.
The exceptions
If a tooth breaks off and your denture is a partial denture, then an impression may be needed, for which you will usually need an appointment. This applies only when the broken tooth is adjacent to a natural tooth, since a precise positioning of the replacement tooth is necessary. If, however, the broken tooth is between prosthetic teeth, then no impressions are needed. But, rest assured, the denture is still repairable. Impressions are also needed if a piece of the denture has broken off and is lost. However, dentures made from some thermoplastic materials, are a little more complex. While Thermosens flexible dentures can be repaired, it is rarely necessary given their flexibility and strength. If a tooth has come off or broken away it can be repaired. However, if a clasp or flexible component is broken then a new denture is the solution.
Lost or broken teeth
Replacing your chipped or broken denture teeth can be accomplished quickly and result in a long-lasting repair. Often when dentures break, or teeth chip and fall off, it's because of long term wear and tear. Regularly maintaining your denture is essential to avoid these mishaps and will prolong their life.
Can loose or ill-fitting dentures be repaired?
If the denture repair issue you have is loose dentures, then as a normal part of denture maintenance, your prosthetist will recommend a denture reline. Applying a lining to the inside surface of your denture where it contacts the mouth and gum tissue, restores a snug fit.
Well-fitting teeth not only look good and increase your confidence to eat and speak with ease, but they are also less likely to break. Stability while eating hard or crunchy foods avoids uneven pressures that can cause breakages and often result in sore gums as well. Ideally, an annual denture check-up will pick up loose or ill-fitting dentures before they become a problem.
'Prevention is better than cure'
So, the take-home message is, avoid breaks occurring in the first place by having a yearly check-up for your dentures. Changing mouth structures – a normal part of ageing – result in a poor fit, causing your denture to rock and flex when chewing, placing uneven pressure on its integrity and making breakage more likely. Denture repairs are very strong and rarely break again in the same spot unless the denture is loose in the mouth and subject to abnormal pressures. It makes sense to practise a little preventative measure and avoid a whole lot of reparative pain.
How long will it take to repair my denture?
Second to knowing if your denture can be repaired, is finding out how long the repair will take. Your dentures can generally be repaired within one day. Drop your dentures into the clinic in the morning and you will have them back by afternoon. If a simple repair is all that's required, it may take as little as four hours.
What can affect how quickly I get my dentures back?
If you have a broken a clasp or any metal part on your cobalt chrome denture, then the repair will involve re-welding which must be done in a specialist laboratory. In this case, depending on the complexity of the repair, you can expect to have your dentures repaired and returned to you in approximately 3-5 working days.
However, if it is just the acrylic part of your denture needing repair, same day turn-around applies. Having impressions taken may slow down the process of getting your denture back since appointments are generally required.
Common kinds of denture damage needing repair
Acrylic base breaks or cracks or chips
Chipped tooth
Tooth falls off denture
Acrylic and tooth break away
Metal clasp breaks off
Cobalt clasp breaks off
How much will the denture repair cost?
The third most important priority when it comes to repairing dentures is how much repairs will set you back. The cost of repairing your denture depends on what needs to be done, but as a guide, repairs range from $100 – $180. This amount varies according to the nature of the damage. Additional costs would apply if you need a tooth or a clasp replaced for example, or if impressions need to be taken.
Denture repair payment options
Breaking a denture is stressful enough without the burden of paying for it. Thankfully most denture clinics offer other options available to alleviate the pain of producing the money upfront for an unexpected expense like denture repairs. Payments can be made in instalments to facilities like Afterpay or Zipmoney spread over more manageable periods of time.
A cautionary tale
Let me tell you about Kristin. She broke her denture while on holiday. An offer of some Superglue looked as though it would save the day. She could do it herself they said: how hard could it be?
Well, the next big steak dinner saw the repair fail dismally because Superglue is not waterproof. The broken edges do not align correctly when using Superglue, causing a poor fit and almost certainly discomfort and the potential for further breakage. But worse still, when Kristin got home, her prosthetist laboured to remove the glue residue, making her eventual repair more costly. What he told her about the glue not being safe for human consumption made her feel ill. Or was it the glue that turned her stomach?
The moral of this tale is 'it's not worth risking your health or your budget, for a quick fix'.
A Final Word
We can't overstate the importance of having an annual denture check-up to avoid the inconvenience and cost of denture repairs. Ill-fitting dentures are uncomfortable, unsightly and increase the risk of breakage. Keep you and your bank balance healthy and looking good by visiting your dental prosthetist every twelve months, or sooner if your dentures are loose.
---
Disclaimer – Always consult your oral health professional for expert advice about your unique personal situation. The information given here is of a general nature and for the purpose of education only. It is not meant to replace the advice of your oral health specialist
---
Northern Rivers Denture Clinic is located in the heart of Tweed Heads, southern Gold Coast. Finally have the smile you deserve with handcrafted, quality dentures.