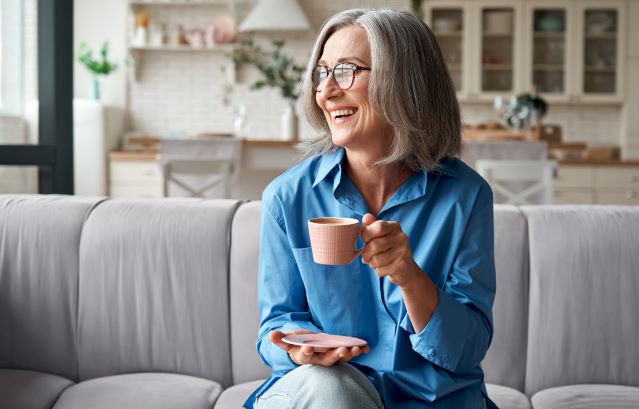 How can I remove stains from my dentures?
We all want a dazzling white smile, right? No less if we wear dentures. Keeping your smile bright doesn't have to be a huge challenge. Just a few preventative measures can make a difference. And even if staining occurs, there are things you can do to remove stains from partial dentures and full dentures, and restore your smile to dazzling.
Why do dentures stain?
But firstly, let's talk about why dentures stain in the first place. There are a number of usual suspects.
The food we eat
What we drink
Lifestyle choices
Personal hygiene
Maintenance regime
Medication
This has much to do with the material from which your dentures are made. Most dentures have an acrylic component. Just like natural tooth enamel, the acrylic in dentures is susceptible to absorbing food, saliva, and bacteria. All dentures are not equal, however. Dentures made of cheaper material are more likely to stain. Higher quality dentures are not as likely to absorb bacteria and food particles, so don't stain as readily.
Which stains dentures more?
One of the most effective ways to prevent staining is to change certain lifestyle choices and limit the foods that cause denture staining. Tobacco is notorious for staining teeth. Abstaining is the best measure for avoiding those unsightly nicotine stains. Highly pigmented foods like berries, beetroot or turmeric, and beverages like red wine and coffee, are also well known for dulling bright smiles. But if giving up your favourite foods or your daily cup of coffee is not an option, then there are other measures you can take.
How can I keep my dentures white?
Cleaning your denture with a nonabrasive cleaner and soft brush can remove stain-producing debris before it has a chance to threaten your brilliant smile.
If cleaning your denture immediately after eating or drinking something potentially stain causing isn't an option, then rinsing your mouth is the next best thing. Do this by removing your denture and running it under cold water to swirl away food particles and beverage remnants.
Sometimes cleaning and rinsing are not enough to remove debris from the invisible pores in your denture material. In this case, soaking your denture overnight can help. Ask your prosthetist to recommend the cleaning product best for your type of denture.
Never fear, your prosthetist is here!
At the end of the day, it's not always possible to remove stains from dentures that have caused havoc on your smile. This is where your dental prosthetist is your best friend. He can perform denture magic for you, executing the best stain disappearing act ever. A professional clean can work wonders by removing stains from dentures.
Who knew that calculus can accumulate on dentures just like natural teeth? When the plaque hardens and becomes calculus, no amount of brushing will remove it. What's more, the surface of calculus is porous like concrete, made for absorbing stains. Your prosthetist can perform a professional clean and polish to safely remove the calculus from your denture, restoring it to a healthy and harmful bacteria free state.
Last words on denture hygiene
One more word on denture maintenance – okay, a few more words actually. It can't be stressed enough that dentures do not cope well with abrasive cleaners or household bleaching agents. Tiny scratches caused by abrasive cleaners and harsh brushes can create the perfect environment for harmful bacteria and food debris, the very things that cause staining in the first place. The use of bleaching agents to whiten your denture is fraught with the risk of weakening your denture, potentially causing damage to its acrylic and metal components and linings. Always consult your prosthetist for advice before using any product on your dentures.
Even more importantly, a damaged denture can be detrimental to oral hygiene and ultimately, general health. Not much point having a white smile if your gums are diseased or your breath smells.
---
Disclaimer – Always consult your oral health professional for expert advice about your unique personal situation. The information given here is of a general nature and for the purpose of education only. It is not meant to replace the advice of your oral health specialist
---
Northern Rivers Denture Clinic is located in the heart of Tweed Heads, southern Gold Coast. Finally have the smile you deserve with handcrafted, quality dentures.