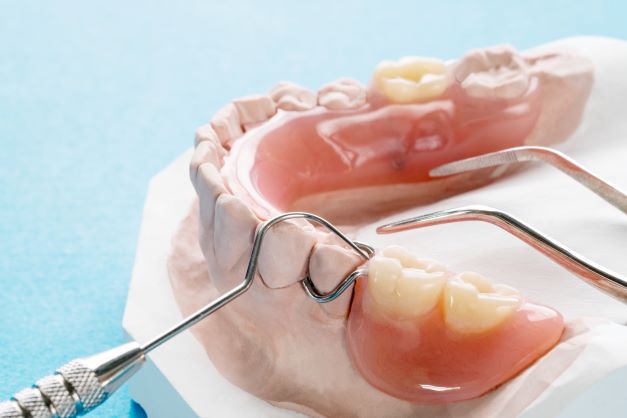 ---
Never have you had such a wide choice when it comes to removable partial dentures. Advances in dental technology mean that those with one or a few teeth missing, can look and function naturally in the same way as people with all their teeth. What's more, your friends and family need not be the wiser when you are wearing a partial denture unless you choose to tell them. The comfort and appearance of removable partial dentures has simply never been better. Read on to discover some of the choices available and if you are a suitable candidate.
What is a partial denture and why should I get one?
Unlike a full set of dentures, or false teeth as they used to be called, a partial denture is a device manufactured especially for you to replace one tooth, or a few missing teeth, on your upper and/or lower jaw.
Perhaps you are not disturbed by a missing tooth. Afterall you might reason, it doesn't stop you from enjoying the things you like to eat, and maybe it's not even visible when you smile. So why bother? The advantages of a partial denture as opposed to leaving a gap, goes beyond their aesthetic value. While it's true that smiling without gaps enhances appearance, bestowing self-confidence and presenting your best self to the world, there are also important health benefits.
Filling the gaps in your jaw helps to prevent bone loss, supporting the general structure of your face to maintain a more youthful appearance. A partial denture stabilises your jaw and assists in the support of facial muscles which would otherwise sag and more readily wrinkle.
Which partial denture is right for me?
With such a plethora of partial dentures to choose from, how do you know which is right for you? Along with advances in the manufacturing of dental prostheses, there have been advances in the expertise and skills of your oral health providers. Your dental prosthetist or dentist can advise on the best partial denture, considering your clinical needs together with appearance, functionality and importantly, your budget.
Further, your prosthetist continues to care for your oral health beyond the manufacturing and fitting of your partial denture. This ensures you enjoy maximum comfort by adjusting for fit as required, but also that you get the best longevity from your partial denture.
What happens when I visit my dental clinic for a partial denture?
During your first consultation, your prosthetist or dentist will ascertain your clinical needs by determining how many teeth need replacing, and where they are located on either your upper or lower jaws. They will look at your overall oral health and the stability of neighbouring teeth which may be needed to anchor your partial denture. Working together, you will discuss your expectations of the look and feel of the partial denture and your budgetary requirements with your prosthetist who will explain your options. At this point it's worth asking to see examples of partial dentures or perhaps photos of patients who are wearing partial dentures.
Types of partial dentures
Listed below is a selection of the types of partial dentures available and a brief summary of the features of each.
Vist our partial dentures page for a comparison table.
Acrylic partial dentures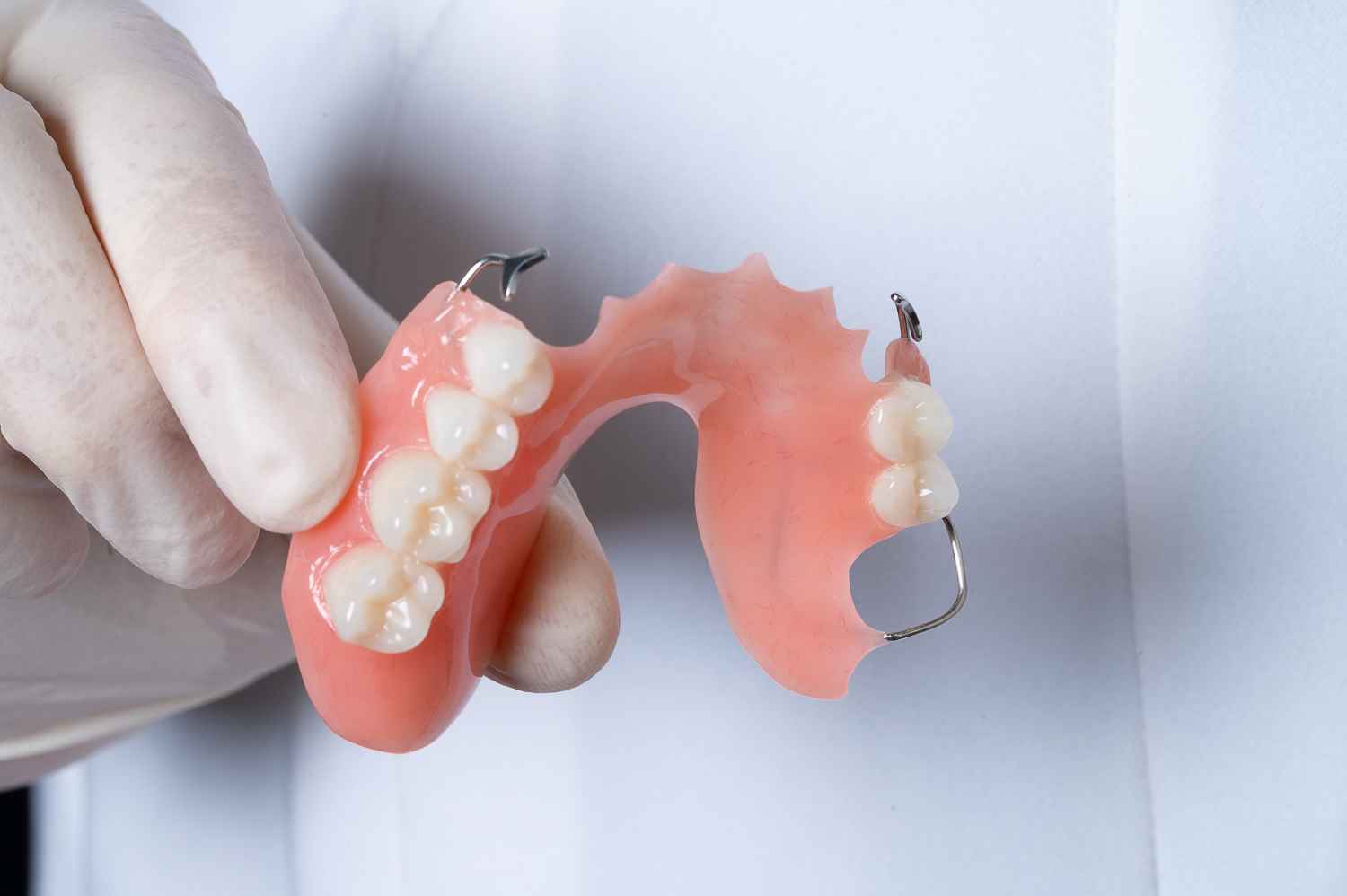 ---
The acrylic partial denture is a popular choice for its natural appearance and robust quality. The base structure of this denture is made from gum-coloured acrylic material to which artificial teeth are attached. Extra teeth can be added to the acrylic partial at any point, it can be relined, is easily repaired, and also cost effective, making it a common choice for those needing a partial denture.
Some denture clinics offer different quality grades of partial dentures ranging from standard, customised and premium grades which are priced accordingly. This allows you to custom design your acrylic denture with a wide selection of combinations available including standard or high impact acrylic, different quality grades of teeth, and metal or acrylic clasps with which it is secured in your mouth.
For acrylic partial dentures costs, visit our dentures cost page.
Chrome cobalt or cast metal frame partial dentures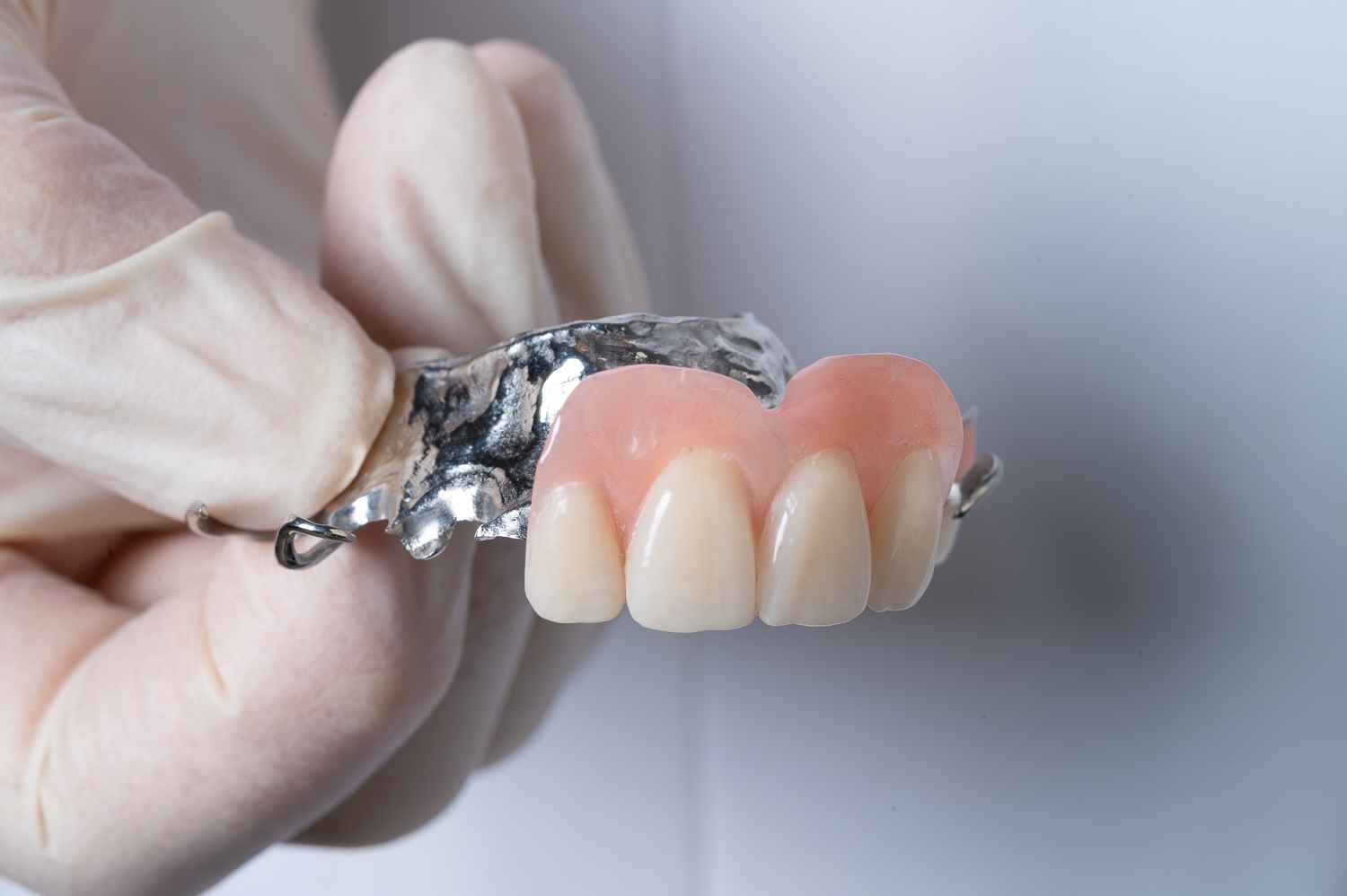 ---
Chrome cobalt dentures, also known as cast metal dentures, are a metal frame partial denture to which teeth are attached in gum coloured acrylic. While lighter and less bulky in the mouth, these partial dentures are also very strong and durable. As with the acrylic partial dentures, there are different types of teeth and acrylic components to select from.
For chrome cobalt partial dentures costs, visit our dentures cost page.
Flexible partial dentures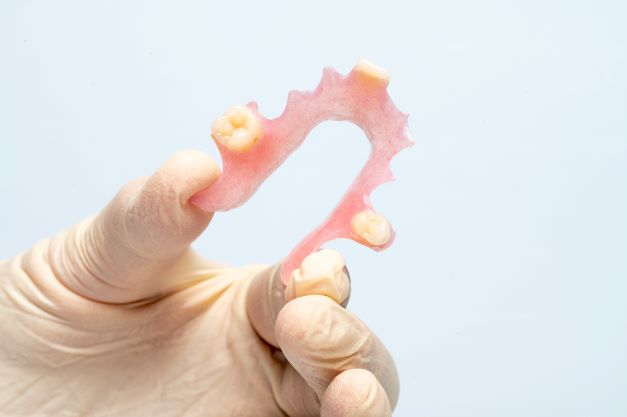 ---
The flexible partial denture is less rigid and softer in the mouth than the acrylic or metal-based dentures. Some flexible denture base material like Vertex ThermoSens has the added advantage of being monomer and acrylic free for those who may have allergic reactions to regular acrylic partial dentures. The Thermosens material is less porous, making it more hygienic since it doesn't readily harbour bacteria. It is also stain-resistant and colour fast. All qualities that make it a popular choice for patients who want to fill the gaps left by one to six missing teeth.
For flexible partial dentures costs, visit our dentures cost page.
Hybrid partial dentures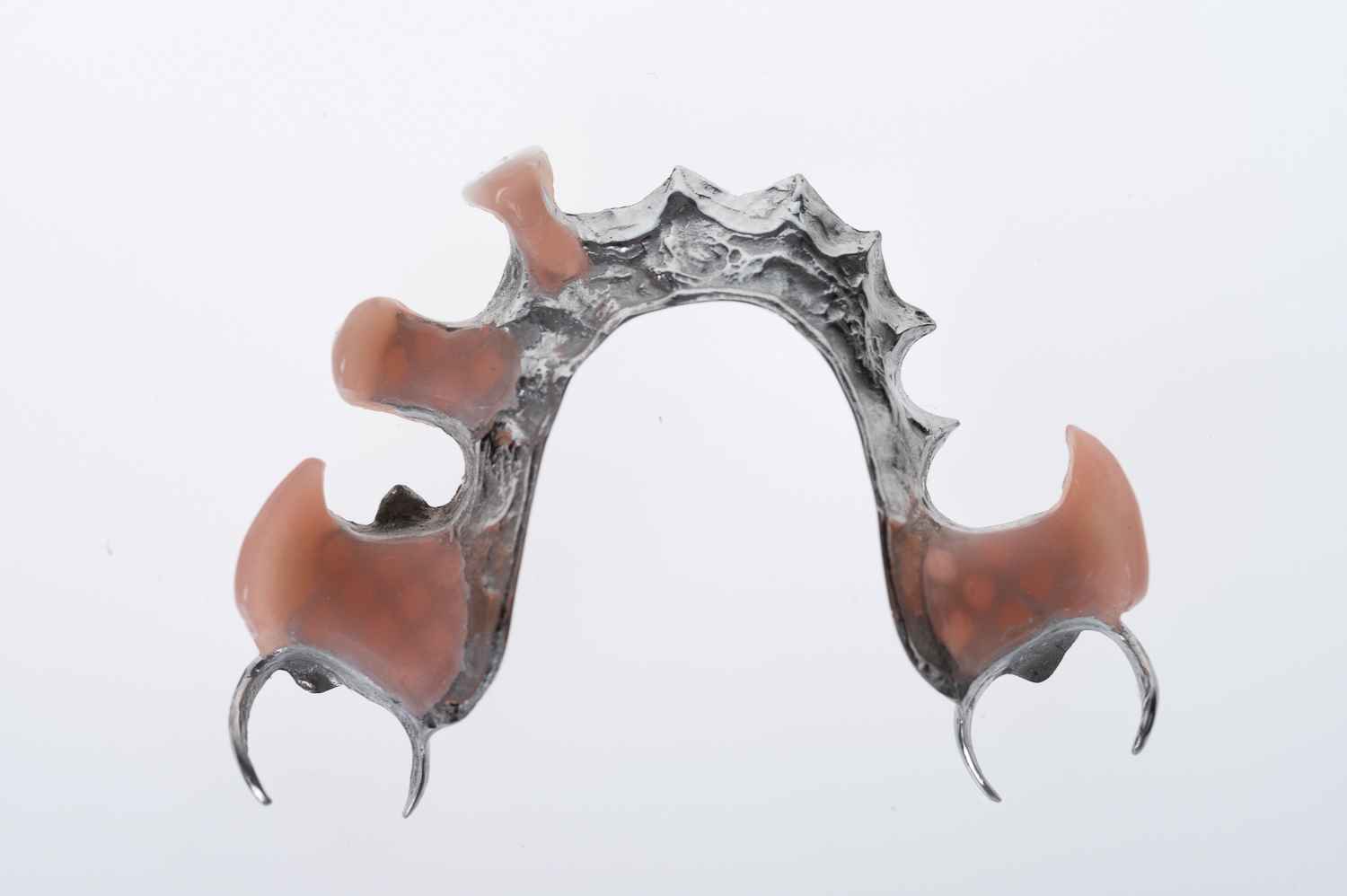 ---
This top of the range, hybrid partial denture combines the chrome cobalt base with superior thermoplastic base material to produce a thin, lightweight, and strong partial denture having superior fit and comfort. Notice there are no metal clasps showing in the smile line making them almost invisible in the mouth.
For hybrid partial denture costs, visit our dentures cost page.
Single tooth or 'flipper' removeable partial dentures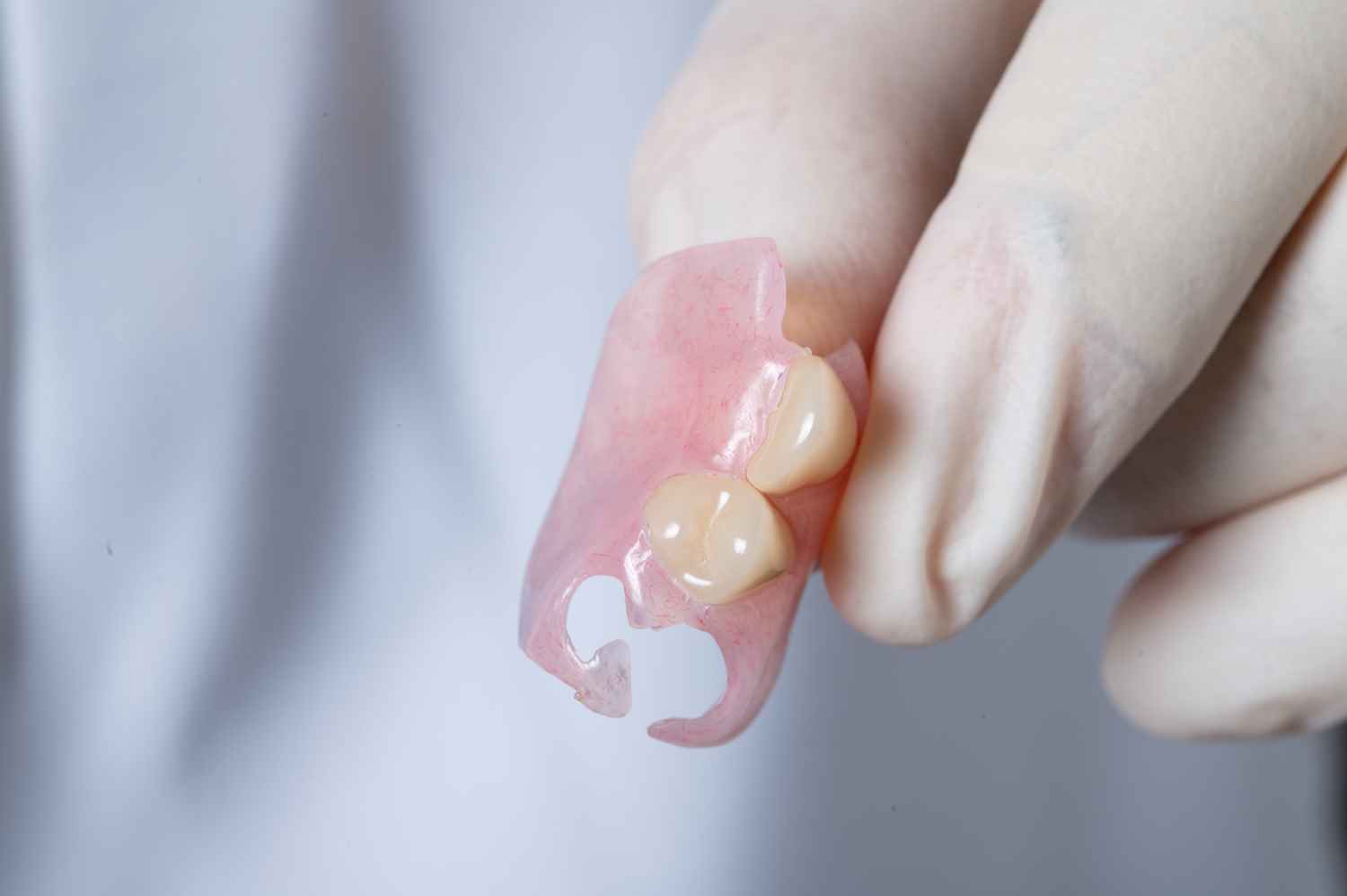 ---
If you are replacing one, or up to three missing teeth, there are two customisable flipper partial dentures from which to choose: the thermoplastic partial denture and the cobalt chrome or metal partial denture.
Thermoplastic single tooth partial denture
This non allergenic, partial denture has an odour and stain free nylon base and can be customised with your choice of teeth. Easy to insert and wear, the thermoplastic partial denture is a flexible, cost-effective way to fill up to three tooth gaps in your smile.
Cobalt chrome single tooth partial denture
The metal or cobalt chrome partial denture is lighter and stronger than the thermoplastic version, although it shares the same convenient qualities, in addition, you can choose either gum-coloured clasps or metal clasps.
For single tooth/flipper partial denture costs, visit our dentures cost page.
What do removable partial dentures cost?
The customised nature of partial dentures means costs differ for every patient. Each patient's treatment and the choices they make around their dentures is unique making it possible to cite estimated costs only. Prices also vary between denture clinics. Some denture clinics offer a free consultation and quote which will give you a better idea of what your particular outlay will be. See our denture price list for further information.
How long will my partial denture last?
The life of a partial denture differs with each wearer. Having your partial denture relined every 2 years preserves a good fit, avoiding any undue stress common in poor fitting dentures, a common reason dentures crack or break. With the proper care, an acrylic denture can last between 5 and 7 years depending on the wearer. Chrome or metal dentures have greater longevity lasting between 5 and 10 years.
Is a partial denture suitable for me?
If you have one or a few missing teeth, a partial denture can restore your smile, stabilise bone loss and allow you to enjoy your food as you did when you had all your teeth. If you no longer have any teeth, then a full denture will be required.
The removable nature of partial dentures makes them unsuitable for people who are subject to seizures because of the choking risk. Partial dentures are not recommended for patients who are unable to practise good hygiene or remove and replace their dentures due to physical or cognitive issues.
Will partial dentures be easy for me to get used to?
If you haven't had a denture before, you can expect to face some challenges, just as you would adjusting to any change. But be assured, millions of people before you have persevered until they adjusted. For some this might be a matter of a few days, for others, it may be weeks. The advantages of having partial dentures far outweigh a few days of mild discomfort getting used to them. Ask any denture wearer and it's likely they will tell you they rely on their dentures as an essential part of living well and feel 'undressed' without them.
New denture wearers often report a feeling of bulkiness in their mouths after first inserting their partial denture. This is to be expected in the early stages of getting used to a foreign object in your mouth. Perhaps at first, you may stumble over your words or find chewing and eating strange. Again, it's simply a matter of being patient until you become accustomed to the change. During the initial adjustment phase, you may have sore spots although not everyone does. These issues can be easily rectified by your dentist or prosthetist who will guide you through the adaptation process of your new denture.
Will a partial denture damage my natural teeth?
Good oral hygiene is essential for a healthy mouth. It's crucial to keep your teeth scrupulously clean and maintain a high level of care for your gums and the abutment teeth your partial denture relies on to secure it in your mouth. Regular denture checks are important because they can often address small issues before they become large problems.
Your prosthetist will show you how to insert and remove your partial denture without placing undue stress on it, thus avoiding the possibility of cracks or breaks. Never rely on biting down on your denture to secure it in place.
How do I care for my partial denture?
Take proper care of your partial denture and it will serve you well. Think of it as caring for an investment in both your pocket and in your health. Regular checks will ensure your denture's longevity and monitor your oral health. At home, making sure you practise good hygiene by cleaning your denture regularly and correctly will also protect your investment in health and financial outlay.
Summary
The take-away message here is you do not have to endure gaps in your smile. There is an effective way for every individual to deal with missing teeth that will suit their expectations, their health and budget. Advances in dental technology in recent years mean there is a wider selection of partial dentures than ever from which to choose. There is a removeable partial denture to suit your unique clinical needs, appearance, and budget. Furthermore, you do not have to deal with this issue on your own. Help is available at every phase of getting a new partial denture. This article provides information on how to determine which partial denture is right for you, what to expect during the adjustment phase of your partial denture and how to ensure you get the best from it. For further information more specific to you please contact your dentist or prosthetist.
Disclaimer – Always consult your oral health professional for expert advice about your unique personal situation. The information given here is of a general nature and for the purpose of education only. It is not meant to replace the advice of your oral health specialist
---
Northern Rivers Denture Clinic is located in the heart of Tweed Heads, southern Gold Coast. Finally have the smile you deserve with handcrafted, quality dentures.