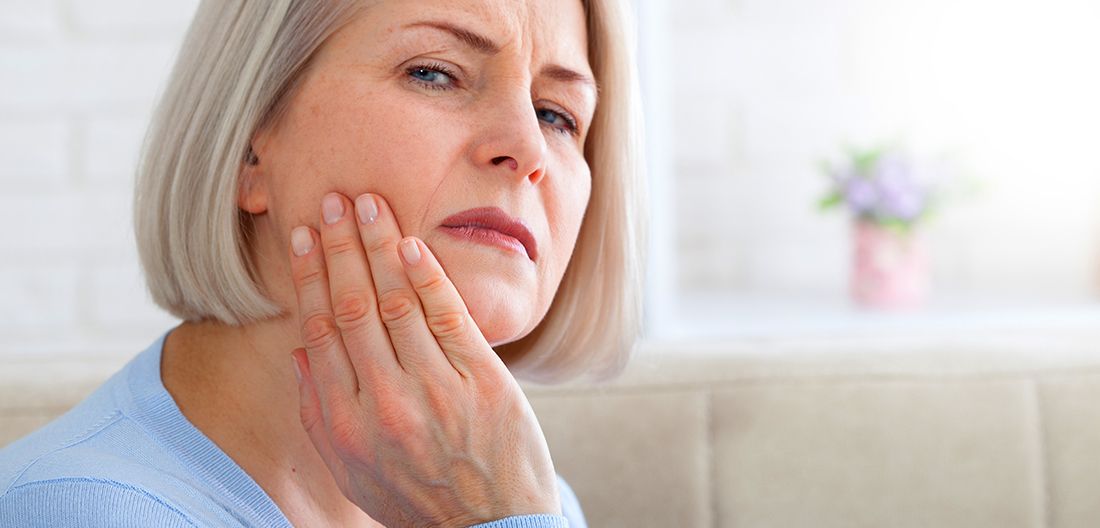 What do you do when your expectations for new dentures aren't met? Are you confused trying to decide on what course of action to take when this happens? This is made all the more difficult if you're experiencing pain and discomfort.
How do I know what is normal for new dentures?
For those who've never had dentures before, being unaware of what is acceptable or normal for a new denture, and what is not, can be very disconcerting. Having a course of action to fall back on if this happens can alleviate feelings of helplessness when you're at your most vulnerable. There are also actions you can take to resolve problems if you feel you're not being heard by your oral health providers.
Common problems with new dentures
While each person is unique in their needs and responses to having teeth extracted for fitting new dentures, there are some common issues. These can be in two areas:
the tooth extraction process performed by your oral surgeon;
the crafting and fitting of your denture by your dental prosthetist.
We address these issues below.
Practising prevention
Ideally, the best cure is prevention, so we have concluded this article with some useful points to consider before you go down the new denture path. And remember, not every new denture wearer experiences the problems described here. There are many testimonies to the effect that getting a new smile was the best thing they ever did.
Common concerns about the tooth extraction process
Pain after extractions
Each person has a unique tolerance to pain. Some patients suffer more than others. Even so, oral pain after extractions can be addressed with pain medication. Your dentist will prescribe pain relief for you after your procedure. If the medication is not working, then another visit to discover why is advised. In some cases, a different medication may be all that is needed to get you through. If there are more pressing issues, then dealing with them earlier rather than later is to your advantage.
Shards of bone left in the gums after tooth extractions
The issue of bone sequestra (bone chips and tooth fragments), will very often resolve themselves. Over time, the shards work their way to the gum surface where they can be easily extracted. Sometimes your dentist will need to remove them and stitch your gum to close the wound. It's not uncommon in this case to have a course of antibiotics to avoid possible infection.
Complications after oral surgery
While not as common, patients may experience complications like dry sockets, swelling, excessive bleeding or infection. If you have concerns about your recovery progress, contact your oral surgeon as soon as possible for assistance.
Common concerns about how your new denture fits
Adapting to new dentures takes time, patience and perseverance.
Your prosthetist will explain the various scenarios that may or may not occur in this process before you embark on your denture journey. However, some patients find the whole experience overwhelming. After all, our teeth are a very personal and intimate part of our identity. Dealing with pain and anxiety can exacerbate patients' frustration which may cause a breakdown in communication and trust in their health provider.
Seek advice sooner rather than later
There is no point in putting up with discomfort and pain. Assistance is only a phone call away. However, it's important to understand it's rare to get the final and best fit the first time around. Your mouth is a dynamic space, continually changing, especially during the healing process. If you've opted for immediate dentures, that is, dentures that are fitted immediately after tooth extraction, then these will be temporary dentures. You can expect to have multiple adjustments, possibly temporary soft relines and eventually a hard denture reline as your mouth and gums shrink during the healing process.
When you have a denture reline, more gum coloured denture material is added to the inside of your denture, filling in spaces where your bone and gums have shrunk. Once applied to your dentures, a denture reline compensates for the changing oral environment and restores a closer fit.
Sore spots
Sore spots or localised tenderness can be very uncomfortable diffusing pain to the whole mouth when you attempt to chew. Consulting your prosthetist as soon as these sore spots develop, means adjustments can be made to remove pressure which causes them. It is normal for several adjustments to be needed when dentures are first introduced to your mouth in order to fine-tune the fit. Over the weeks after your extractions, your mouth tissues shrink as healing takes place, necessitating such adjustments.
Communication problems
Issues can arise when the patient's expectations differ from those of their oral health provider. Ideally, during your first consultation, you'll ask questions about your upcoming procedure and what you can expect. Many dentists and dental prosthetists will give you written information to take home and process in a less pressurised home environment. Anxiety about your procedure can mean you're not taking in all you're being told. Taking a friend or family member along to provide another set of ears is a good idea. It's in everybody's best interests for you to clearly understand what to expect.
When you're not feeling heard
Occasionally, patients return to their oral health providers when they have problems, only to feel they're not being listened to. It's not unusual for a layperson to feel out of their depth about dental and medical matters. But as the patient, you are entitled to the best available treatment. Clear explanations about your procedure are an important part of this. Your oral health professionals are ethically obligated to provide it. What is more, their reputations depend on the success of your treatment.
Merits of the collaborative approach
So, what can you do if you feel you're being stonewalled?
Approach your oral health provider with a collaborative attitude – that is, one that conveys by working together, the problem will be resolved. A calm and non-aggressive manner will go a long way to making this approach work. Remember your oral health provider wants a successful outcome as much as you do.
If you are intimidated by their expertise or feel you can't ask for clearer explanations, take a friend or relative to your appointment for moral support.
If you are still unsatisfied then you're entitled to a second opinion.
In rare and extreme cases, and if all of these avenues of action fail, you can put your case to the Department of Fair Trading.
Can you get a refund for dentures?
Ideally, you will have done some research before choosing your dental prosthetist. One of the questions you will have posed is: do they offer a guarantee?
It pays to look for a prosthetist who offers a personal satisfaction guarantee, which indicates their professional confidence to provide dentures of quality and therefore, a good fit. A personal satisfaction guarantee means the prosthetist ensures you will be happy with your dentures and he or she will do everything they can to achieve this.
Refunds are not offered lightly and not before all avenues to rectify the situation have been made. This is because your prosthetist's professional reputation is at stake. Therefore, he or she will go to great lengths to ensure you are satisfied with your new denture.
Some cautionary measures to take before you get new dentures
I'm sure you'd agree, it's always better to shut the gate before the horse bolts. The best way to achieve this is to do your homework. Being informed and prepared will minimise the chance of something going wrong. When you're informed about the procedures you will ask the right questions and make better choices.
Furthermore, you will have a better idea of what to expect, what symptoms to watch for, what a normal patient response is, and what may need monitoring. A mismatch of patient/therapist expectations is a common cause of patient dissatisfaction.
Practical measures to take
Choose your oral health specialist wisely: ask around for recommendations; take advantage of free, first consultations to determine if you can work with this person
Prepare a list of questions to take to your oral health providers
Do some online research on reputable websites
Join a denture support group and consult others who've already been through the procedure. Here is a link to a Facebook forum for Australian denture wearers.
A final word
Getting new dentures doesn't have to be a traumatic experience. Even when things don't quite go to plan, problems with new dentures can be, and are, resolved every day. Your health providers are consummate professionals. There are few problems they haven't already seen and resolved successfully.
You can smooth your own path to successful dentures by being prepared before you even begin the process. Remember, there are many layers of support available to you as we have outlined here.
---
Disclaimer – Always consult your oral health professional for expert advice about your unique personal situation. The information given here is of a general nature and for the purpose of education only. It is not meant to replace the advice of your oral health specialist
---
Northern Rivers Denture Clinic is located in the heart of Tweed Heads, southern Gold Coast. Finally have the smile you deserve with handcrafted, quality dentures.