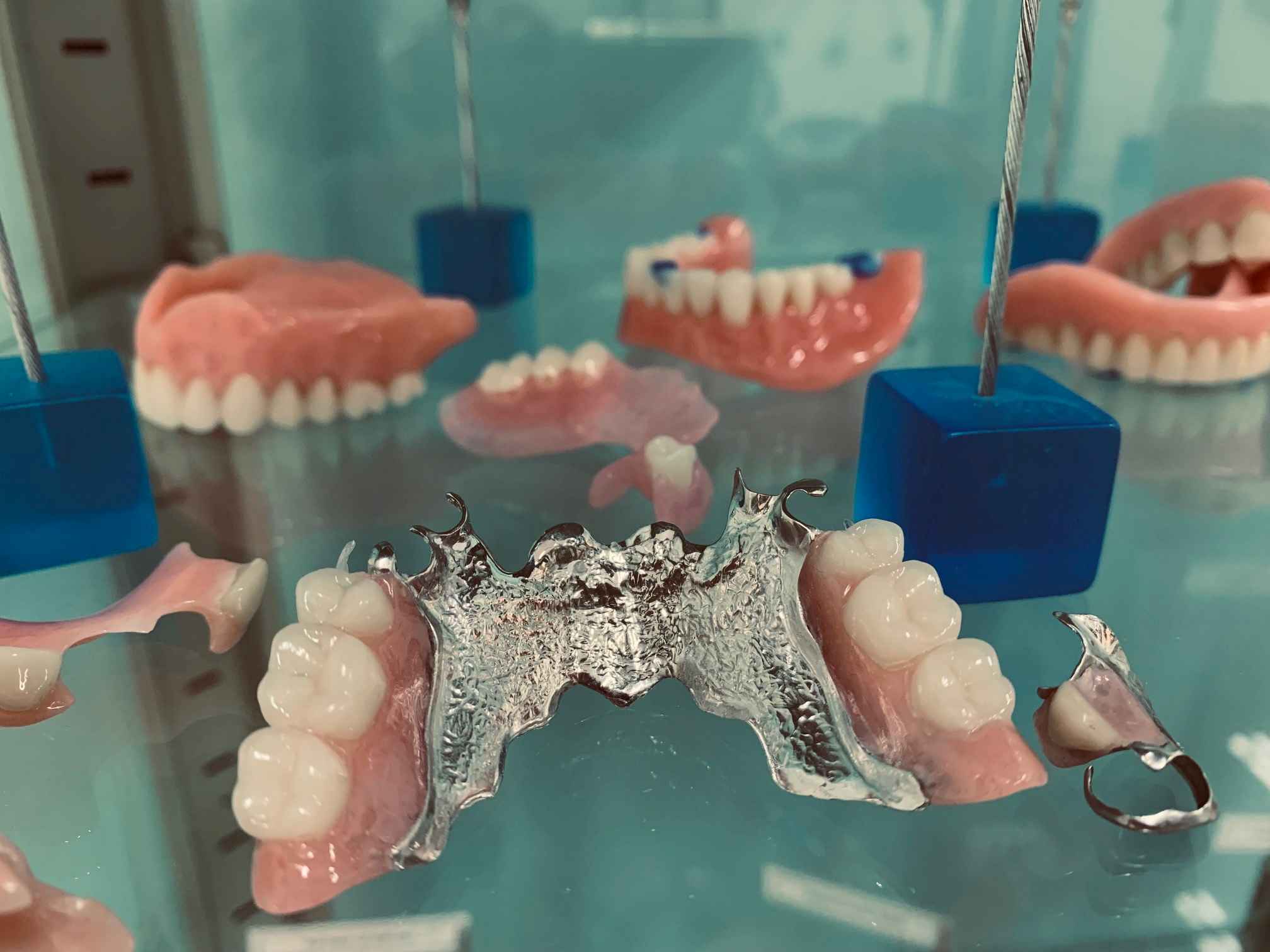 The denture dilemma - how to choose the right denture for you
Losing one's teeth can be personally confronting. We simply can't be without them. Questions abound: will I look different? Will I be able to eat the same way, speak easily, have a relationship, function the way I used to? Will choosing the right denture be difficult? It's easy to become overwhelmed with how you imagine having false teeth will change you.
But imaginations can conjure up images that belong in the past: teeth in glasses of water beside the bed of a toothless sleeper. Well, forget those outdated images. The dentures of today are lifetimes away from those unappealing times. Modern denture clinics with advanced dental technologies and skilled professionals, mean better materials, less intrusive methods, superior fit, greater comfort and more pleasing aesthetics. And, a greater range of options to choose from.
What are dentures?
Dentures are man-made appliances that give us another option when, for various reasons, natural teeth fail. Dentures restore the ability to speak, eat, look and function as we did with natural teeth. There are two categories of dentures: 'partial' when just a few teeth are missing, or 'full' when all teeth need to be replaced. Dentures are custom made appliances, specifically crafted for your individual needs and situation by a team of highly skilled professionals.
Who can help me choose the right denture?
Spoiled by the amount of choice we have these days, it's not surprising we need help to decide what is best for us when it comes to an important personal item like dentures. But where to start? Who can help?
First port-of-call is your denture clinic where your dental prosthetist, sometimes working in conjunction with your dentist, will determine your needs based on their clinical assessment of your unique situation. If you have just one or a few teeth to replace, you can deal directly with your prosthetist. Similarly, if you are replacing existing dentures, then your denture clinic is the place to go. If a number of teeth are to be extracted, then your prosthetist will work with your dentist to get you back to normal again.
The process of choosing the right denture
No one would argue that keeping one's natural teeth is the ideal situation. But sometimes because of accidents, disease and other health conditions, maintaining your natural teeth is no longer viable and you must consider other options.
Or, perhaps after years of wear from your old dentures, you've decided it's time for a new set. So, how do you choose the right dentures for you?
Where to begin
There are a number of questions you need to consider when choosing the right denture. Each depends on your individual situation. Some of the choices, like colour, fit, stability and materials, your prosthetist will help you with. Determining other considerations like budget, only you can decide.
That said, your prosthetist and their team are best placed to help you find a balance between what you can afford and what will be the best value for money in terms of durability, fit and appearance. Some of us aspire to more than we can afford at a given time, so there are payment options to cover all scenarios. You don't have to compromise on an important priority like your teeth.
Getting dentures is a collaboration between the denture clinic team and the patient. They are there to guide you every step of the way.
Talking to others who've been through the process can be helpful. The Denture Support Australia Facebook page is another source of useful information. Group members include patients and professionals. Reading their experiences and asking questions can give you a better idea of what to choose and what to expect.
Expectations
It's important to have a conversation with your clinician about your expectations. While your prosthetist is there to help and guide you, it's essential you're both aware of what you expect the end result to be. It's a good idea before your consultation, to give some thought to how you expect your dentures will look, feel, perform and how much they will cost. Discuss these expectations with your prosthetist and clarify any questions you might have.
Budgetary issues can be constraining. But these days, even the less expensive dentures are made using the latest technology, expertise and materials (if made in Australia).
Materials differ not in their quality but rather, their cost to make and the degree of engineering required to create the denture. This translates to durability and feel in the mouth: metal is stronger and more robust while having a smaller profile in the mouth. Acrylic is slightly bulkier and not as durable, but in the case of partial dentures, offers flexibility.
Considering the options when choosing the right denture
The first practical consideration when choosing the right denture is the number of teeth you have missing or potentially will have extracted. This will mean either a partial denture to replace a few teeth. Or alternatively, a full denture to replace all the teeth on either the upper or lower jaw, or both.
The options: full upper and lower dentures
What to keep in mind when choosing a full upper denture
Full upper dentures are kept in place by suction, therefore the upper palate is covered. A full upper denture otherwise known as a full upper plate, is crafted from natural-looking, gum-coloured acrylic of various grades depending on the construction process. Some denture clinics offer a range of full dentures from standard to premium, each differing from the other by the process of manufacture, tooth quality and price. However, this doesn't mean the less expensive options aren't comfortable. On the contrary, many people wear standard full upper dentures for years with ease.
What to keep in mind when choosing a full lower denture
Gums and muscles help to keep lower dentures in place. Your prosthetist is happy to explain the features of the acrylic lower denture option. Full lower dentures cannot be metal or hybrid.
But if retention of a full lower denture in your mouth is an issue for you, it may be worth exploring implant-retained dentures, explained below. Whether for full upper or full lower dentures, they are a great solution for those with very sensitive gums and no bone loss, or if you have difficulty holding a full denture in your mouth.
Implant Retained Dentures
Dental implants are titanium posts inserted into the jaw on to which dentures are secured as removable implant-retained dentures, or overdentures. Not all patients are suitable candidates for this kind of appliance, however, depending on a healthy bone density.
While this option is a more expensive one involving oral surgery, implant-retained dentures are good for stability, especially for the lower jaw. Having stable dentures is crucial for eating and speaking effectively. If your dentures fit well, they will be secure in your mouth giving you confidence and comfort. Your clinician will explain this option to you and help decide if you are a suitable candidate should you wish to pursue it.
Partial dentures
There is a veritable smorgasbord of choice for you when it comes to partial dentures. Again, most people want the best they can afford. However, less expensive options are still very effective and popular with patients. Depending on how many missing teeth you need to replace, the choices range from standard acrylic dentures to the flexible, virtually unbreakable appliances, as well as the lightweight chrome cobalt denture combined with high impact acrylic, or the hybrid chrome-Thermosens dentures with superior comfort and fit.
As with the full dentures, you can further customise with your choice of tooth quality. You have several tooth options to choose from: all are natural-looking in a range of shades, with higher-end tooth options appearing 3D due to natural light reflection and anatomy.
Immediate dentures
As the name suggests, your prosthetist will insert your immediate dentures on the same day your teeth are removed. Performing preliminary work in advance of your tooth extractions, like taking impressions and crafting your new denture, ensures its readiness for immediate fitting. You don't have to be without teeth while waiting for your new dentures to be made. In addition, your new immediate dentures serve to assist healing and adjustment of mouth and gum tissue.
Each of the options has particular qualities affording a range of choices for fit, durability and appearance. Different grades of acrylic dentures are available from standard to high impact. Tooth quality also varies from standard to high-quality natural-looking teeth.
So you see, customising your denture to your unique individuality doesn't have to be difficult. In collaboration with the health professionals at your denture clinic, you can have the best possible denture solution for you.
Cost of dentures
Of course, you want value for money. But, prioritising the quality and the fit of your new dentures is equally important. When it comes to your teeth, poor choices can negatively impact your lifestyle and your health. Sometimes our aspirations are ahead of our budgets. But don't despair, there are now other ways to get the teeth you deserve without breaking the bank or living on cat food.
Most prosthetists will explain denture costs to you upfront, giving you a quote before any work is done. Having established costs, you can then consider payment options. Various no interest payment plans are now available making it easier to choose the best denture for you.
Appearance
Last, but never least, is the important 'how will I look?' factor. Prosthetists are extremely good at what they do, but let's be real here. They can't perform miracles and give you Hollywood star looks when they weren't there to begin. So be realistic about your final denture-wearing appearance. Understand that new dentures need time to settle in, just as you need time to adjust to having them in your mouth. While your mouth might look 'full' of new dentures to begin, the muscles and tissue will adjust to a more natural appearance given time.
Where mouth anatomy has shrunk, new dentures may 'iron out' a few lip wrinkles, giving you a more youthful appearance. Understand there is a limit to this effect however, since how the dentures fit and achieving the correct 'bite' must take precedence when making dentures. The further the denture protrudes from the gum to push the skin around the mouth out, the more the denture fit is compromised. Even so, dentures can make some people look better than they ever have, replacing old, discoloured, uneven or misshapen natural teeth with a smile to be proud of.
In terms of gum and tooth colour, tooth shape and quality, expect to be part of the decision-making process. Don't be afraid to take a loved one or friend along to help you decide. Be proactive and inform yourself about the choices offered. Ask your prosthetist to show you the actual products. Take time to browse the denture album.
Final Word
Choosing dentures to suit your unique situation doesn't need to be an onerous experience. You have at your disposal highly trained experts using cutting edge technology. Your denture clinic team understands how crucial it is to get the right dentures for you – at the right price. They are by your side when it's time to make sense of the wide range of choices you have.
---
Disclaimer – Always consult your oral health professional for expert advice about your unique personal situation. The information given here is of a general nature and for the purpose of education only. It is not meant to replace the advice of your oral health specialist
---
Northern Rivers Denture Clinic is located in the heart of Tweed Heads, southern Gold Coast. Finally have the smile you deserve with handcrafted, quality dentures.